Goliath is a wooden-steel hybrid coaster located in County Fair at Six Flags Great America. It opened on June 19, 2014.
History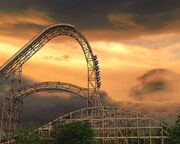 On
August 5
,
2011
,
Six Flags Great America
announced on their official Facebook page that
Iron Wolf
would be closed on September 5, 2011.
[1]
[2]
The ride was subsequently removed and relocated to Six Flags America where it operates as Apocalypse[3]
On August 1, 2013, Six Flags Great America began a teaser campaign entitled "Follow the Journey".[4][5] In mid-August 2013, it was revealed Six Flags Great America would be building a 165 foot high roller coaster, with plans being lodged with the local zoning committee to exceed the 125 foot height limit imposed on the park.[5][6][7][8][9]
On August 29, 2013, it was officially announced that Six Flags Great America would be adding Goliath, a wooden roller coaster by Rocky Mountain Construction, for the 2014 season. As part of the announcement, a concept computer-animated "point-of-view" (POV) and statistics of the ride were released.[10][11][12]
On February 21, 2014, Six Flags Great America posted a collection of pictures to its official Facebook page, revealing Goliath's final design.[13][14] This updated version includes a steel lift hill structure, rather than the traditional wooden structure. An updated animated POV was also released on the park's official YouTube channel.[15]
Construction for Goliath began in September 2013, with a team of 35 employed by Rocky Mountain Construction to erect the ride. The team worked 11-hour days, six days a week through the winter to early May 2014,[16] amounting to approximately 40,000 man hours.[17] Following the ride running hundreds of test runs, it officially opened to the public on June 19, 2014.[18][16] The lift hill was topped off on May 16, 2014 at 2:00pm. Goliath tested for the very first time on May 31, 2014.[19] On Friday June 6, 2014, a small section of the rides station caught fire and was extinguished without any reported injuries or major damage.[20] Goliath's soft opening date was June 18, 2014[20], While it opened to the public the next day.[18]
Records
Goliath holds the Guinness World Record for the steepest and longest drop in the world for wooden roller coasters. Formerly, it also held the record for fastest wooden roller coaster in the world, which was surpassed by Lightning Rod at Dollywood in Spring 2016.
Awards
Golden Ticket Awards: Top Wood Roller Coasters
| Year | 2014 | 2015 | 2016 | 2017 |
| --- | --- | --- | --- | --- |
| Ranking | 23 | 14 | 13 | 13 |
References